Outdoor Tiki Bar Plans
26 October 2008
2 Comments
For the DIY crowd looking to build the ultimate poolside tiki bar, this guide on How to Build Your Own Tiki Bar is a valuable step-by-step guide featuring a fantastic tiki bar design and instructions on how to build it.  As the writer points out, this type of high-quality tiki bar often sells for upwards of $5000 and makes a great addition to your backyard oasis.  The tiki bar in this design is this beautiful 4 ft by 8 ft layout with a thatched roof.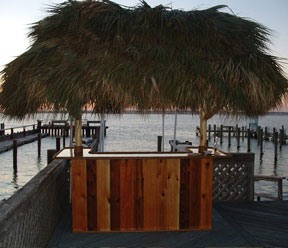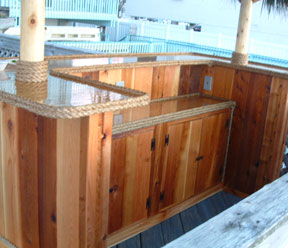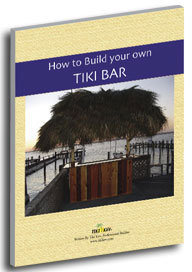 This tiki bar guide includes a materials list, where to find those materials, 85 photographs throughout the step-by-step instructions, and the design that has been proven time and time again.  According to the guide, only commonly available tools are required.  The plans also provide for electrical hookups, cabinets, and other necessities for a complete tiki paradise.  At under $20, this guide is a bargain.
Once your masterpiece is complete, be sure and pick out a classic tiki bar sign from our tiki bar store to complete the effect.  If you've successfully used this guide to build your tiki bar, please send us a couple of pictures of your handiwork or add it to the comments.  We'd love to feature your creations on the site.  We dare you to top this Eagles bar!